Where do you go when you've fallen in love with the Litchfield Hills? We asked some of the area's residents to share their personal favorites.
To commemorate the Two-Year Anniversary of Happening in the Hills, we have put together this collection of impressions by folks who know the area well. Whether it's an overlooked or underappreciated site, a personal observation, or specialized information about a place that is well-known, these contributions are just a few of the many, wonderful ways we spend our time in the Northwest Corner.
We acknowledge that Litchfield County provides endlessly rich experiences, and that this article is by no means exhaustive. It is our hope that you will be inspired by the enthuiasm of our contributors to explore even further and discover secrets of your own, and then let us know for next year. Below are this year's Best-Kept Secrets of the Northwest Corner:
Twin Lakes, Salisbury
(Lake Washining & Lake Washinee)
No matter the season, whether biking the perimeter, paddling the shoreline, or just driving around it (which I do on my way down to Pergola) this special spot always stirs me. With Bear Mountain in the distance, the westward views are quite something. Quiet reflection. And on Sunday mornings in season, Mary's classic pancakes at the very vintage O'Hara's Marina hit the spot.
Nonnewaug Falls
This is a favorite, magical spot of mine. "The Falls" is a very special out of the way place in Woodbury under towering pines that has an atmosphere of spirituality. There is a bronze plaque on a stone describing the legend of an Indian chief that ended his life there. It is such a peaceful beautiful spot—I almost hate giving the secret away! If you go, enjoy the solitude, and please tread lightly, and leave no evidence of your visit!
Blackberry Brook
My favorite spot in the Northwest Corner is lovely little Blackberry Brook at the Beckley Furnace. This wonderful brook is home to a great number of well-fed trout. There are a couple of picnic tables to enjoy lunch with a view of the old iron furnace and the water flowing past — a great place to contemplate and appreciate nature.
Sawyer's Bar
My fave spot: Sawyer's Bar in Torrington, walking distance from the Five Points Gallery, on a quiet corner along the river. The crowd here is diverse, the bar staff friendly, and the food unexpectedly delicious and memorable. Prepared by the bar's Bahamian chef-owner, the vegetable curry served with rice is outstanding, as are the spicy fish tacos and truffle fries! My only complaint would be the at-times overwhelmingly loud music issuing from the bar's juke box at the behest of some of the restaurant's younger patrons.
Lion's Head Summit
I chose Lion's Head summit for two reasons: it is a supremely picturesque drive to the trail head in Salisbury and the most breathtaking vista from the second highest elevation in Connecticut at 1,738 feet. But the real reason for giving it my highest endorsement as a best kept secret is due to the fact that every time we mention the hike to locals and hiking enthusiasts no one we know has experienced the glory of Lion's Head. Once you summit the view is witnessed from a sheer scrabble of slate boulders embedded into the mountain side (not for the weak at heart when it comes to heights) and the view encompasses Sharon, Lakeville and Salisbury which resembles an aerial painting of New England's finest countryside.
Pizza at Averill Farm & Pond Mountain
My favorite things this fall are pizza at Averill Farm from Pizza to the People—just divine. And the Saturday Afternoon Trail at Pond Mountain Land Trust in Kent—any day of the week and season, it's just the most beautiful place. And reading Happening in the Hills to find other treasures in our area.
Norfolk Farmers Market
One of my favorites spots in Norfolk is not just a spot, it's a happening. It's the Norfolk Farmers Market that takes place on Maple Avenue on Saturdays, May into October, with special additional market offerings in late fall and winter. The Farmers Market isn't just a place to get great produce, foods and handmade items. It's also a place to get your gardening questions answered, hear local music and perhaps more important, see friends and acquaintances and be introduced to new friends. It's a wonderful meeting place to say a quick hello to a neighbor, chat with the vendors, renew friendships, stroll and enjoy the open air. I always walk away feeling renewed by seeing friendly faces, hearing the jolly hellos and touching base with those around me even if only for a brief minute.
Washington
When I am here, at home in Washington and in my life day to day, seeing familiar faces, driving past familiar places, doing the same bits of living, I often forget where I am.
Flying into the airport from wherever I've been in whatever season it might be, driving back from Windsor Locks past the airfield, around the reservoir past corn fields, along the back road past other people's homes, the pond with too many water lillies, past barns and barns that are no longer there. Past the sign that says "New Milford" that inexplicably doesn't mention Washington Depot, past the western views onto Wykeham Road and onto my road, leading home; that moment from a trip long or short, that the grass is greener here, the air is sweeter, the garden is screaming for us to stop even in the middle of the night to see what has grown over a week or just a few days.  Past the loosestrife, the Queen Anne's lace, the chicory, the fireflies, the neighbor's dog barking.
We stop with flashlights to look at the garden we've sown for thirty years and I remember where I am. I remember all the people who are gone now and of my best friend who died when she was 94, the year I turned 50 and nearly died of cancer and how my community took care of us as one family. I remember the widows ringing bells at the church on the Green where we were married long before, and while we sat torn apart by loss and still together in the balcony.
Of my son grazing these fields for 22 years.
Of fighting to keep our little towns alive and being shocked that it is always a fight.
But still, coming home to a wood fire and the tree frogs singing.
The light in snow and in spring. The dead of winter and the white clover of summer. Tiny scilla as bright blue as a star poking its head up,
I curse it and I worship it.
Barabara Hyde Talbot
Washington
Garden Conservancy and Hunt Hill Farm
I have two best kept secrets, both of which are known to some but hardly utilized as much as they deserve.
First, are all of the amazing gardens that are open to visit through the National Garden Conservancy's incredible Open Days program. Litchfield County has perhaps the highest density of most wonderful gardens of any region in the country and this program opens the gates to all. These are not your grandma's gardens – I'm talking really creative landscapes here!
Next is the Silo at Hunt Hill Farm in New Milford. Sure, you say, we know that one, but when was the last time you were there? I am continuously amazed by people telling me they have never been, or not in many years. They have fantastic cooking programs, a world class gallery and a wonderful store, you knew that. But did you know that they have a Smithsonian-affiliated museum of Skitch Henderson's memorabilia starting from the early days of his career at the Tonight Show all the way up to the 21st century? Did you know you can have weddings or other events there, catered by top chefs? Did you know they have acres of beautiful land (recently used for a very successful and well attended civil war re-enactment)? It's time to pay another visit!
The North End Store
There's a reason GPS exists… You won't find this one without it! The North End Store is the glistening jewel on the ring of West Hill Lake in Barkhamsted. Stop in for an iced tea and stay for a meal! Enjoy weekly live musical performances and water views from the spacious patio under the stars. Drive from anywhere to feel like a local. The North End Store on Perkins Road has a best kept secret: delicious Lobster Rolls,  seven days a week, May thru October! Families gather and bring SUPs and Kayaks. Steps away is the free public boat launch. Order ahead or come-in off the water… they'll make 'em to order. Don't forget to ask Ms. Brenda, "How's the Indian Chief?"
Dutch Epicure Shop
The Dutch Epicure Shop bakery may be one of the most overlooked gems in Litchfield County. It's located in a nondescript building, on the outskirts of Litchfield's village center, that most people likely just drive right by. Run by the nicest family, they've been importing quality foods from all over Europe for 41 years and their selection of meats and cheeses is absolutely amazing. I stop in every time I'm in the area!
Pond Mountain Trust
One of my favorite places is an overlook found in Pond Mountain Trust in Kent. This view is gorgeous, over Fuller Pond toward Macedonia State Park, yet a bit hard to find, up an unmarked path off of the Saturday Afternoon Trail. Founded by the late Myra Hopson, Pond Mountain Trust is a hidden gem as well — 800 acres of conserved land with a wonderful trail network open to the public.
View of Lake Waramaug & Whittlesey Road
The top of Tanner Hill Road to get a spectacular view of Lake Waramug. Even with all the construction on this hill in the past decades, it is still quite a sight. I always try to take visiting friends to this spot as an introduction to the area.
If you enter Whittlesey Road from 202, you will eventually come to the perfect pastoral view. This is what most of Washington used to look like.
The Elephant's Trunk Flea Market
One of my favorite things to do on a Sunday morning is to stroll the aisles of The Elephant's Trunk Flea Market in New Milford, taking in the "flea" culture with its colorful cast of characters and its crazy-good mix of vintage items for sale. Listening to the banter, the haggling and complaining; with the sun beating down on the rows of vendors and folks browsing; with the beautiful hills in the backdrop; the locals, the weekenders, and the visitors, with their hats and their smiles; the bumpy carts, the stamp on the hand, the creative displays, the lemonade stand, the Korean food truck and the fields brimming with parked cars. A reminder that we are all connected, looking for truth and beauty—even if it comes in an old jar full of buttons that someone else collected years ago.
The Litchfield Hills
My favorite place in the Litchfield Hills is being able to view them from a Hot Air Balloon. It's a breathtaking view as well as a daring experience.If I told you my favorite spot, then it wouldn't be special any longer. So, I choose the Hills themselves, and somewhere in there is my favorite spot.
Litchfield Hills Farm-Fresh Market
Regardless of what else is going on in my life, I look forward to my year round Saturday morning visits to the Litchfield Hills Farm-Fresh Market. Yes, it's my way of shopping for locally grown food. But it is so much more. The participating local non-profits, artists, musicians, chefs and art activities for children all contribute to the nickname for the farmers' market — the Community Living Room. It's the place my kids ask to go and the place where I  bump into folks from around town whom I don't see frequently. And it's always great to meet folks who have come from a distance and learn why/how they got to our market. I always leave with good local food and a smile on my face.
Michael Trapp, the Gunn Library, and Washington Supply
One of my favorite shops is Michael Trapp in West Cornwall. Michael sees and interprets the universe very differently than most mortals. If you can keep an open mind, he can take you on an incredible journey.
I am also a huge fan of the Gunn Memorial Library…I am never so humbled as when I am in a library, and realize how much there is for me to learn. And yet, very ironically, I also find it to be a very calming place.
And finally, there is Washington Supply…although billed as a hardware store, I actually think they defy description. No matter what I go in there looking for, miraculously they always have it…and "their service with a smile" is completely refreshing!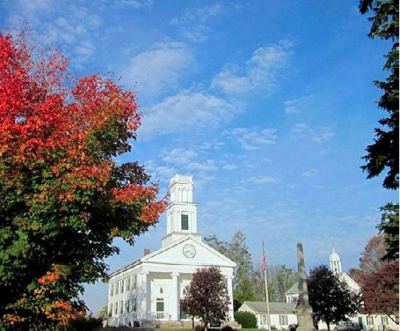 Plymouth Center
A historic gem that most people drive right by is the little village of Plymouth Center, listed on the National Register of Historic Places. The village, located on Main Street (Route 6), features a white steepled Congregational Church, a cemetery where 38 soldiers from the Revolutionary War are buried, a traditional New England green, and historic houses.
My favorite place in Plymouth Center is the Burying Ground. The inscriptions on the gravestones tell us about life in colonial Connecticut. One stone reads "Emily Bronson, age 2, died of a scald". Another is inscribed "Frelove Darrow, died with her daughter stillborn".
The Morris Marketplace
The Morris Marketplace is not your typical farmers' market. It's a place for family and friends to relax and enjoy a real working farm and embrace the area's best local farmers, foodies, artisans, chefs, and musicians. Not to be missed are the most amazing grilled dishes at The Marketplace Grill run by Chef Chris Eddy. At the farm there are lots of fun events scheduled throughout the season such as tethered hot-air balloon rides, kid's arts and crafts, axe-throwing demonstrations, hay-rides, festivals, and seasonal activities such as the on-site corn maze and sunflower walking trail. Sundays at the Marketplace are one of the area's best-kept secrets.