Chef Lisa Fielding and café owner Blane Withers have joined forces to launch a series of fun, communal dining events at the beloved Marty's Café in Washington Depot.
Marty's Café was brought to life as a tribute to the talent and distinguished career of Roxbury resident Martin O'Brien who lost his battle with cancer in 2005. Marty built a distinguished career in the luxury hotel and restaurant industry. He traveled  the world launching projects for such places as New York's Waldorf-Astoria and St Regis Hotels; palaces for the late King Hussein of Jordan; ITT Hospitality; Ian Schrager Hotels; the Brazilian Court in Palm Beach; and private investment groups. Marty and his partner Blane intended to open a version of Marty's Café together when Marty's life was tragically cut short. Since it's opening in 2006, proprietor Blane Withers has run Marty's Café and made it the meeting place for friends and neighbors. Locals and visitors alike can always count on a great cup of coffee and a bite to eat while sitting back in its casual environment. Now, Blane has teamed up with Chef Lisa Fielding of Secret Ingredients to collaborate on a new series of dining events.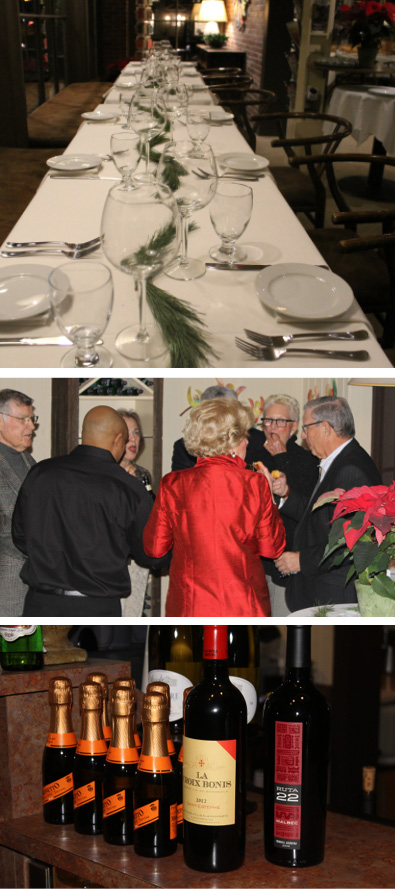 Lisa Fielding is a chef and writer who lives primarily in Bridgewater and services clients in Connecticut, New York, and Vermont (www.secretingredientsct.com). She also writes a monthly food blog that includes her delicious recipes on Happening in the Hills called The Duchess of Litchfield County (www.happeninginthehills.com/duchess/). For years, Lisa has been hosting her Secret Table dinners in Los Angeles and Connecticut. "The dinners are a beloved communal dining event intended to connect people and their passion for great food and wine." Blane Withers is from Richmond, Virginia and spent 13 years in nonprofit publishing and adult education in Washington, DC before moving to New York with Marty in 1995 to join The Public Relations Society as its Marketing Vice President. "Marty and I started as weekenders in Roxbury Connecticut back in 1996. It was a mutual goal to eventually spend more time here doing something enjoyable—and together. While Marty's life was tragically cut short, the gift of an idea led me to Washington full-time…"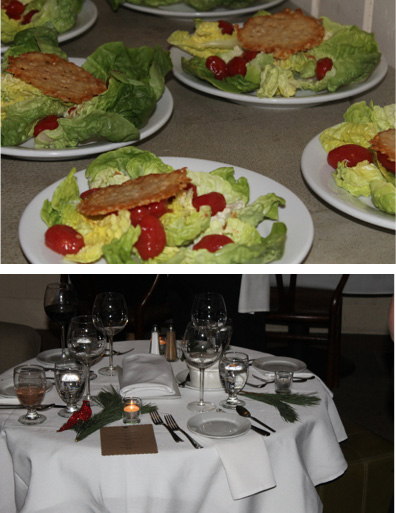 The collaboration came to fruition at Marty's with their debut on December 19th and it was a huge success. For the first event, Blane and Lisa transformed Marty's into an intimate candle-lit haven. The menu began with cocktails and sparkling wine, followed by Appetizers, then a Salad and Boeuf Bourguignon on Crispy Polenta Rounds or Coq au Riesling on Brown Butter Potato Puree. Dessert was a Flourless Chocolate Cake with Brandied Crème Anglaise, and the evening ended with Assorted Cheeses, Fig Jam and Roasted Almonds.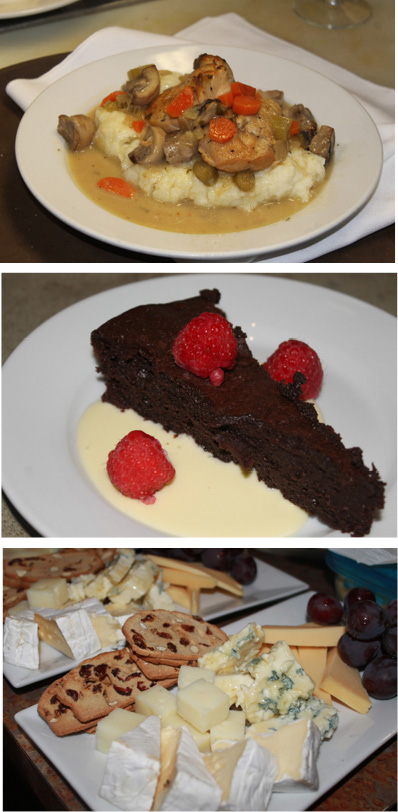 "Secret Ingredients and Marty's is encouraged by our first joint venture," says Blane. "Our goal is to accomplish one event every month, and possibly more as high season approaches." Experimenting with the communal dining experience and modifying a typical restaurant model for their pop-up dining collaborations is what interests the duo. Lisa and Blane both agree that what makes the possibilities so endless with this venture is that there is so much product and talent in the rural Connecticut community—from locally produced craft beers and spirits to talented musicians and artists.
Future events being planned include a traditional Tapas evening, a Sunday Jazz Brunch, a Winter Chili-fest, a night of Middle Eastern Delicacies, and a Summer Barbecue. Because Marty's Café is not restricted by an existing evening dinner business, Lisa and Blane can use their imagination and partner with other local talents to create a truly unique food experience. Some of the future events will be complimented by live music and even art.
The next event—not to be missed—is on Thursday, January 28 and will feature a Mexican Feast. "An homage to my Mexican roots and a tribute to my Grandmother Rodriguez's delicious and authentic cuisine," says Lisa. The emphasis will be on fresh seafood, skirt steak, salsas, and use of fresh herbs and spices, such as saffron. "Not the heavy cheese and sour cream-laden dishes found in most Mexican restaurants." Craft margaritas and Mexican beer will be served upon arrival, with homemade empanadas. Tickets are $45 per person.
This new partnership promises to create a new culinary destination for the Depot, bringing the community together in Marty's intimate ambient space.
Prices will vary according to the type of event and menu.
Check back with us in our GOINGS ON section as we post future Secret Table Dinners.
You can also arrange a night for your own special occasion. Book Marty's Café for the evening, and plan a special menu with Chef Lisa Fielding.
For more information, drop in, email, or call Marty's Café:
Marty's Café
4 Green Hill Rd #1
Washington Depot
martys06794@gmail.com
860.868.1700