Amanda Glover is known all over Litchfield County for her amazing wedding cakes, cupcakes, sweet and savory baked goods, and her vintage Airstream Bakery, Sweetie.
Ever since she was a little girl growing up in Seymour, Connecticut, Amanda Glover wanted to bake. She began at home in her mother's kitchen with her sister. On rainy days they would bake bread together using their great grandmother's recipe—which she never measured out. They baked chocolate chip cookies too— improvising—and the results came out surprisingly well.
As soon as she was old enough for working papers, Amanda headed straight for her first job in a kitchen with the goal of logging in enough hours to be accepted into the Culinary Institute of America, better known as the CIA.
After graduating from The Culinary Institute of America in Hyde Park, NY, she worked at the Mayflower Inn in Washington and at the famed European patisserie Belgique in Kent, resulting in a well developed repertoire in breads, chocolate making, and pastry production. The next stop was at Winvian in Morris where she worked under Chef Chris Eddy. It was here that she gained an appreciation for sustainable, locally sourced ingredients and products that would ultimately shape her world view on the interconnectedness of a community built around food.
Glover started AmandaBakes, LLC in 2014 as a custom baking service. She put her energy into owning her own food truck and came across a beautifully converted Airstream that she named "Sweetie." Today Amanda brings lovingly prepared baked goods to the community in the Northwest Hills of Connecticut and has developed quite a fan club from her appearances at the South Farms Morris Market Place, where Sweetie can be found. Amanda and Sweetie also travel to private events, markets, and festivals.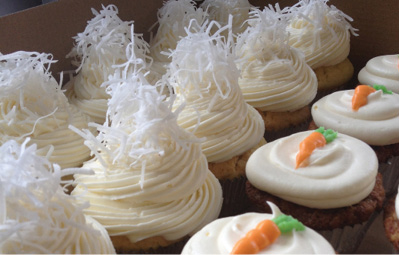 In addition to her popular cupcakes, cookies, and bars, Amanda also bakes special occasion cakes, wedding cakes, themed cupcakes, holiday desserts, pies, and pastries—delivered to parties and events. All of her baked goods are made from scratch using the finest ingredients and sourced locally whenever possible.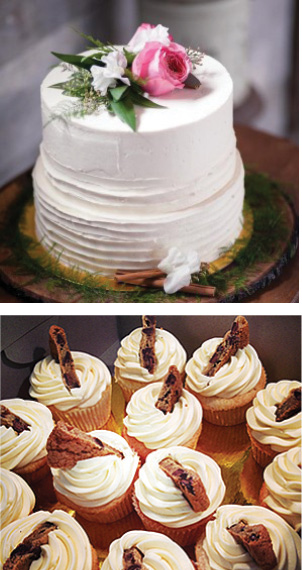 For those looking for a fun way to sweeten up their wedding day, the AmandaBakes Airstream can be booked to arrive at the reception fully stocked with sumptuous desserts. The menu for the evening can be completely customized to the event. Wedding cakes and coffee service are also available. Sweetie can be booked for children's birthday parties, Bar and Bat Mitzvah parties, and any other kind of event.
With the launch of her first cookbook titled Sweetie Bake your Day: Sweet & Savory Baked Goods Anyone Can Make, Amanda Glover begins a new journey of book signings and author appearances. The striking cookbook was playfully illustrated by Raheem Nelson, an artist from New Haven who works on an iPad. The book was produced by Barbara Gold of Mission Branding, and published by Ingram Spark Publishing, and the pages are filled with a wide range of creative,  easy recipes including her cookies, bars, quickbreads, cakes, savory goods, pies, tarts, gluten-free bakes, scones, and doughnuts. Throughout the book there are many tips on using high quality and local ingredients. Equipment is kept to a minimum, making the recipes accessible to any avid home baker.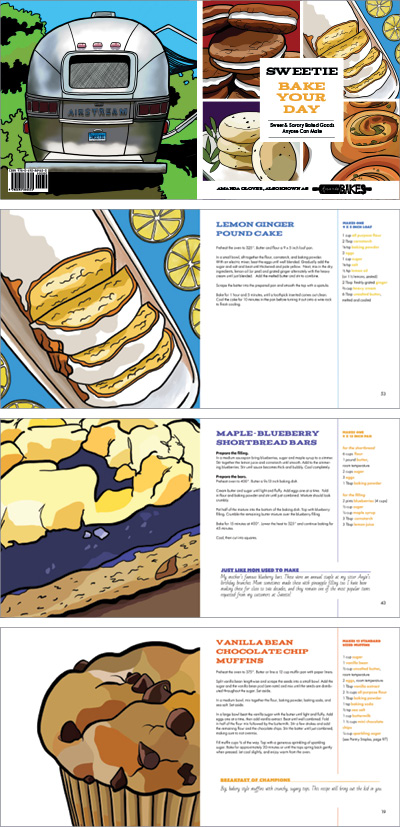 The book will be sold at The Hickory Stick Bookshop in Washington Depot. Priced at $20, a portion of the book sales goes to FISH NWCT, a homeless shelter. Amanda is already working on her second book Fatso: 50 Recipes to Expand Your Waistline, dedicated to her grandmother.
As well as a pastry chef, Amanda is also a classically trained chef in traditional cooking methods. She lives with her family (and Sweetie) in the Litchfield Hills. We spoke with Amanda about her passion for baking, community, and the freedom to be creative:
How did you end up in Litchfield County?
After two cross country trips, I landed a job at The Mayflower Inn. I've always been one for tall pines and rushing rivers and nature. As I began my search for a home closer to my work, I took my first trip to Litchfield. Growing up in a suburban landscape, the Litchfield Hills reminded me of being out west. White Memorial in particular, made a great first impression. I've now lived here for 18 years.
Do you use natural ingredients in your baked goods?
Yes, I believe that is where great cooking and baking starts, with the best quality ingredients. In my new book, I have an entire section dedicated to help the home baker identify and purchase high quality, pure ingredients that they may not have been aware existed.
Do you use local ingredients?
Absolutely. I pick pears from a backyard orchard, berries from Evergreen Berry Farm, rhubarb from Stonedrift Farm, maple Syrup from Crow Hill, coffee from Giv, Arethusa milk and cream, apples and peaches from March Farm, goat cheese from Little Farm on Main, honey from Berry Ledges, and my eggs come from Pond's Free Range Poultry-the list goes on! I believe that a community is built around food.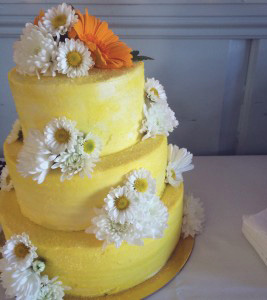 What are your most popular baked goods?
My mother's recipe for shortbread bars sell out every week. The whoopie pies have their very own following. The big, soft cookies in the cookie jars are popular with the kids – especially if they have sprinkles! Gluten-free brownies have a dedicated group of consumers. In the summer, fresh fruit galettes and ice cream sandwiches filled with Peaches and Cream Ice Cream are popular. In the fall its cider doughnuts, and slabs of pie with ice cream- and the apple crisp is also a big seller.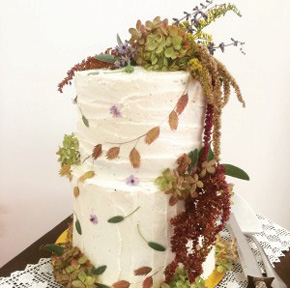 Besides the obvious, what are the differences between being a pastry chef for a restaurant versus selling from a trailer and taking on special orders?
What I love the most about selling from the Airstream is being able to be face to face with my customers at every transaction. I get to see them enjoy what they've ordered, I am able to talk to them and get to know their favorite things. I am able to be flexible enough to create a new menu every week based on what local produce is available, any fun customer requests, and in part, what it is I feel like creating. I'm never locked in to making the same recipe day after day.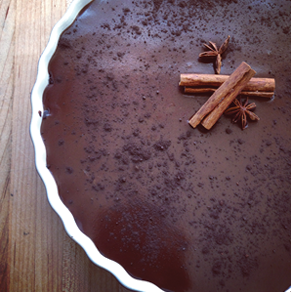 How do you see your business growing?
I really enjoyed writing my first book, and I'm eager to pen a follow up. With the Airstream, catering private parties and creating menus is one of my favorite things to do. I'd love to expand and be able to bring on one or two employees. I'm always open to new opportunities as they come my way, and my future plans are always evolving!
Contact Amanda for a consultation. Allow at least one week's notice; and for very detailed custom orders please give plenty of notice, so that Amanda has the chance to create the dessert of your dreams.
amandabakes.com
southfarms.org/amandabakes/

Upcoming Book Signing Events:
…………………………………………..
June 10, 2017, 12-2 pm
at the Nutmeg Olive Oil Company
25 Main Street in New Milford
Amanda uses their Persian Lime Oil in one of her recipes for Key Lime Cookies. The book's iPad artist Raheem Nelson will be at the signing with Amanda, and at 3 – 4 pm he will be giving a free iPad art class at The Makery CoWorking at 55 Bank Street giving an in-depth look behind the art in the cookbook and on the fundamentals of creating art on a digital canvas. From 2-3 pm, there will be a Photo-Op with Sweetie, the Airstream Mobile Bakery, parked visibly on Bank Street in New Milford.
August 5, 2017, 2 – 4 pm
at The Judy Black Memorial Park
in Washington Depot
There will be an iPad art demo with the artist Raheem Nelson, as well as a baking demo and tasting by Amanda Glover.
July 15, 2017, 2 – 4 pm
at Sunset Meadows Vineyard
in Goshen
There will be a book signing and tasting of Amanda's Merlot Chocolate Cake.
August 19, 2017, (time to be determined)
at Kitchenworks and Gourmet Gifts
in Litchfield
There will be a book signing at this kitchen shop.
With the AmandaBakes Airstream trailer named Sweetie, Amanda Glover is dedicated to bringing an authentic food truck experience right to an event or function. The 1978 Airstream Land Yacht trailer has been restored and retrofitted with a fully operational artisanal bakery aboard. It is available for events and arrives stocked with a selection of delicious sweets for guests to enjoy throughout the summer months and select fall dates for events at South Farms in Morris. AmandaBakes proudly supports local vendors, farmers, craftsmen and purveyors for their raw ingredients and supplies. Rental fees and information are available upon request.
Raheem Nelson, iPad artist
Ra! began copying cartoon characters at age 6. He published his own comic books selling them to his friends. He attended high school at ECA (Educational Center for the Arts), where he became an artist learning to paint with oil and acrylics and to draw and paint figures. His next stop was the School of Visual Arts in Manhattan. The iPad and Ra found each other in 2010.
Raheem Nelson is a resident of New Haven. He teaches workshops, gives private lessons, and does iPad art testing for Apple. His work has been displayed in galleries in the UK, Vancouver, New York, and San Francisco. He has a permanent installation in a restaurant in New Orleans and recently published an illustrated book, From the Elm to the Empire. He continues to support ECA/Educational Center for the Arts.
www.raheemnelson.com