Currently on view at Andrea S. Keogh Art & Design are  paintings by local artist Bob Knox that focus on his passion for paintings by the masters and his own pursuit of beauty. 
When you look at the five large paintings by Bob Knox that comprise the exhibition Re-Mastered: Paintings by Bob Knox at the Andrea Keogh Gallery and Design in Litchfield, what you see is not what you get. They seem to be abstract expressionist works, presumably made with a rapid, muscular application of pigment with large brushes. But they are actually highly crafted, labor-intensive, multi-layered constructions based on appropriated historic masterpieces. Knox's process is original and confounding, and the end result is riveting.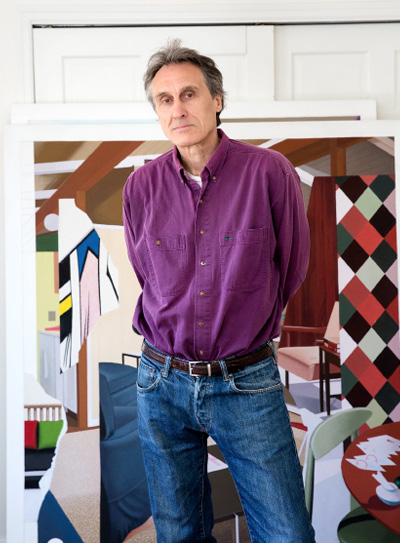 A student of art history, Knox mines his library to find images of art that inspire him. The pictures compel him to paint spontaneously and emotively directly onto the page. Knox then superimposes a grid on his "collaboration" with the master and transposes each square of the grid onto a large-scale, stretched canvas. Using small, delicate brushes, Knox reiterates each miniscule detail of the book illustration he has embellished, including those areas where the masterwork can be seen under a thick layer of abstract impasto.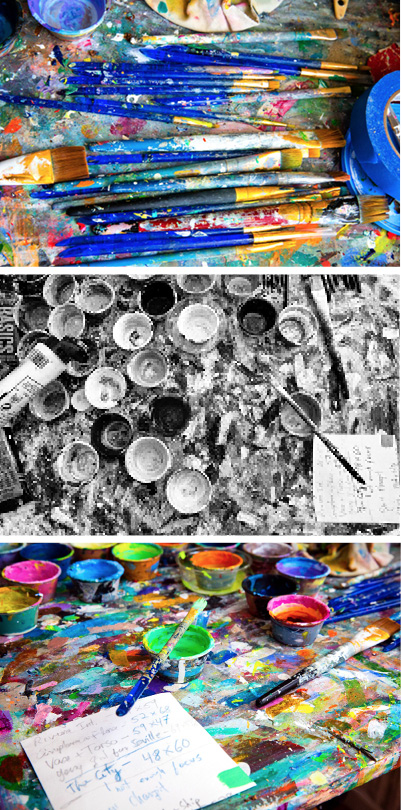 With Venus Hiding in a Glade of Pearls, Knox's underpainting refers to Francois Boucher's Toilet of Venus of 1751. Venus' leg, the white swan, the carved frame of a chaise, the cherub with a tethered turtle peek out from the vivid swaths of orange, green and blues on the painting's surface, creating a dynamic tension between the two art historical moments and their stylistic solutions. We find ourselves in a hybrid space where the Master's past, Knox's recent commentary on that past, and the present we inhabit as viewers are simultaneously experienced.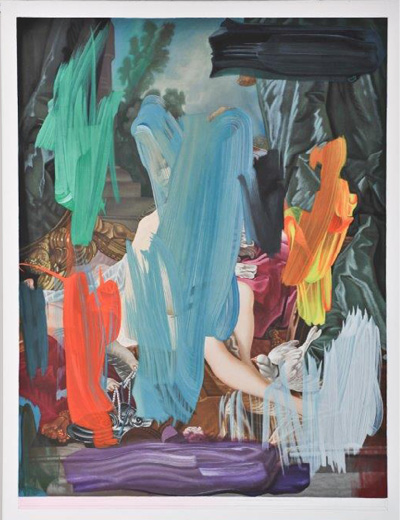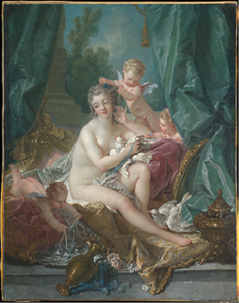 The Unexpected Guest is a response to Henri Matisse's La Japonaise: Woman Beside the Water of 1905. Knox's counterpoint to Matisse's staccato brushwork is a layer of aggressive, paint-laden strokes that only partially obscure the master's light-filled landscape. The title suggests that Knox is an unexpected guest visiting the Matisse's legacy.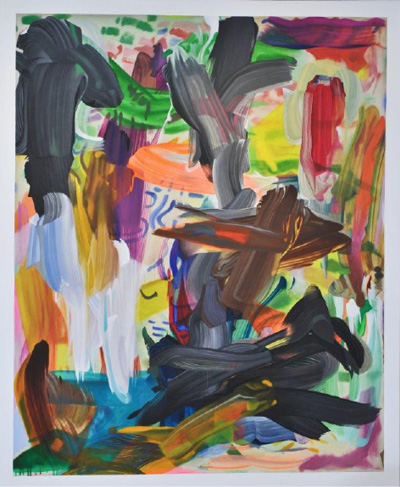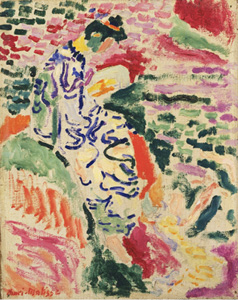 Victory at Sea alludes to Vermeer's The Concert, c. 1665. The iconic black and white checkered floor is evident in the lower right. The Knox veneer of energetic color seems particularly like a layer over the past, with one contemporary corner lifting to expose another time and place. This glimpse of the beloved painting also articulates the contribution Knox is making to the art historical continuum.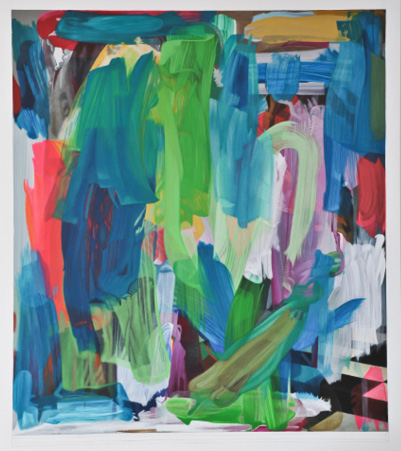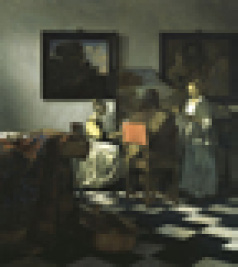 Some of Knox's paintings, such as Autumn in Africa, Winter in Berlin (after Matisse's A Red Fish and Sculpture) ) or Vox Angelico (after Fra Angelico's Entombment) almost obliterate the source by embellishing the entire surface. In these instances, we participate in a mystery that is both disconcerting and familiar. If the viewer is not aware that these paintings begin with images of masterworks, they appear to be, and they actually are, jubilant contemporary abstractions. If one is informed about the art historical layers, it seems as though we are sharing a secret with the painting, and our awareness of that unseen world resonates from behind the surface.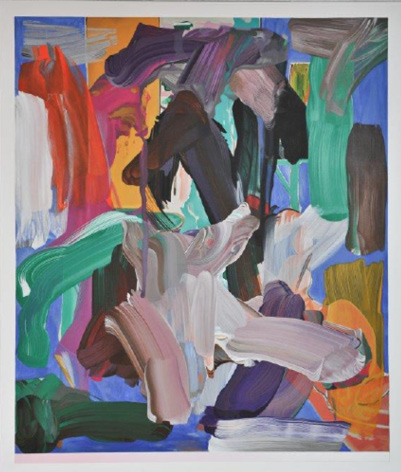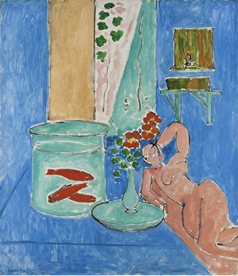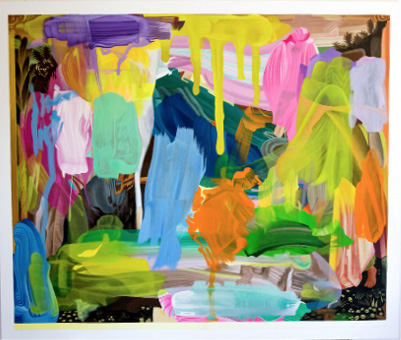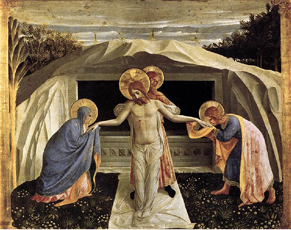 Knox's unusual process can be understood as a metaphor for they way we perceive reality. We all make assumptions about appearance, and none of us knows what lies beneath the surface of the retinal world, or behind the apparently serene face of an acquaintance, because we can experience only the present tense. Though we are each imbued with the past, history itself is evasive. The five Knox paintings stay with you. The expansive sense of time, the reverence for the past, the embrace of the present, and the compelling color make these the kind of paintings you want to live with.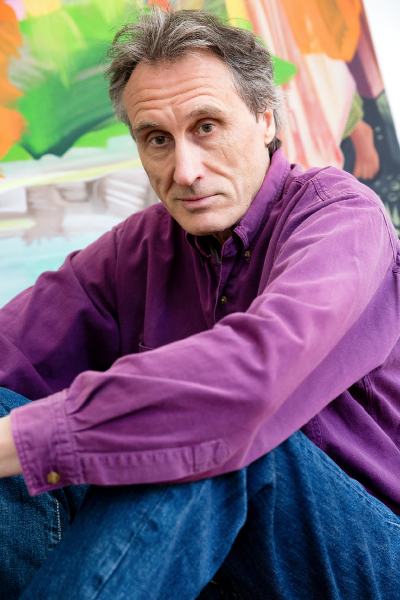 Knox studied sculpture at L'Ecole des Beaux Arts in Rennes France, and he received a BA in Studio Art from Wesleyan University. He subsequently studied sculpture and painting at the State University of New York in Purchase. The current exhibition at Andrea Keogh Gallery and Design is his twentieth one-man show, and he has been included in thirty-two group exhibitions at galleries and museums through the U.S. and Europe, including Jack Shainman Gallery in New York, the Blaffer Gallery at the University of Houston, the Aldrich Museum in Ridgefield, Connecticut, Gallery Salvator Diaz in Madrid, Spain, and Galerie James Van Damme in Brussels, Belgium. Knox is represented by William Havu Gallery in Denver, Colorado. The artist has lived with his wife in Litchfield County since 2002.
Bob Knox: mozey@sbcglobal.net 
Andrea Keogh Art and Design website:
The exhibition Re-Mastered: Paintings by Bob Knox will be on view until June 4, 2017. Gallery hours are Friday and Saturday, 10 am to 5 pm and Sunday, 12 to 5 pm.
Photos of paintings by Philip Dutton, except where noted.
Andrea S. Keogh Art & Design
43 West Street
Litchfield, CT 06759
860.567.2600
andreakeogh@att.net
akeoghartanddesign.com