An exhibition of works by legendary Modernist Master
Joan Mitchell is on view at Andrea S. Keogh Art & Design,
an art gallery on Litchfield's historic town green. 
"My painting is not an allegory or a story. It is more like a poem.
"
– Joan Mitchell
We have a superstar in our midst. The current exhibition at Andrea S. Keogh Art & Design in Litchfield features a portfolio of eight lithographs by the modern master, Joan Mitchell (1925-1992). Mitchell was one of the few female Abstract Expressionists in the male-dominated West Village, New York City art world of the 1950s. But she definitely held her own, sparring with tough verbal retorts to Pollock, Kline and the rest of the art guys at the Cedar Bar. A restless soul with a cantankerous personality, Mitchell was at ease only when she was painting, when for her, time stopped, silence prevailed, and she lost herself in the creative process.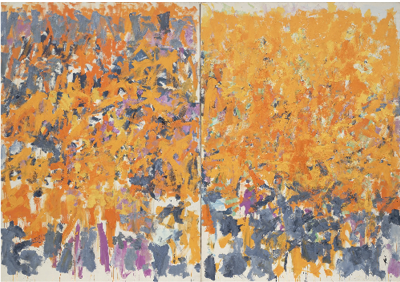 Born in 1925, Mitchell attended Smith College for two years before she transferred to the School at the Art Institute of Chicago. With an academic monetary award, she spent several months in Paris, a trip that would determine the course of her life and work. Returning from France, she spent five very productive years living in New York, when she participated in many celebrated exhibitions, including Ninth Street Exhibition of Paintings and Sculpture, organized by Leo Castelli, the Second Annual Exhibition of Painting and Sculpture at the Stable Gallery, Vanguard 1955 at the Walker Art Center, the Annual Exhibition of Contemporary American Painting at the Whitney Museum, and the 18th Annual Society for Contemporary American Art Exhibition at the Art Institute of Chicago. Mitchell moved to Paris in 1959, and in 1968 she purchased a sprawling property in the French village of Vétheuil, where the expansive grounds and mature trees became her solace and her inspiration. In Europe, her reputation as an important American artist grew, with exhibitions at Documenta II, the Venice Biennale, and galleries in Milan, Bern and Paris. More importantly, living in France gave her direct access to the work of French Post-Impressionists like Cezanne and Van Gogh, and the Modernist she most admired, Matisse.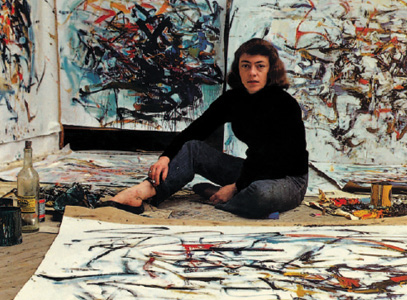 In 1960, Tiber Press published The Poems, a collaboration between Mitchell and poet John Ashbery. This would be the first of four volumes that Mitchell would create with poets who were also close friends. Keogh is showing the last of these portfolios, Poems, in collaboration with poet and longtime friend, Nathan Kernan. The suite was made at Tyler Graphics Ltd., in Mount Kisco, New York shortly before Mitchell died in 1992. Poems is a book of eight Joan Mitchell lithographs illuminating the poetry of Kernan, printed in an edition of seventy-six boxed folios.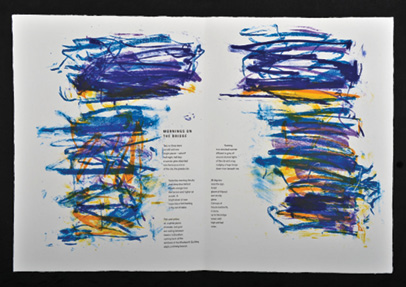 Keogh has framed the lithographs separately, allowing each work its own space and singular presence. Like Mitchell's complex monumental paintings, these more intimate works on paper (19-1/4 x 14-1/8 inches) convey the artist's intensity, her love of color, and her unswerving inspiration in nature. Each is a vivid response to a Kernan poem, with Mitchell's passionate gestures and rich palette embracing the carefully placed text.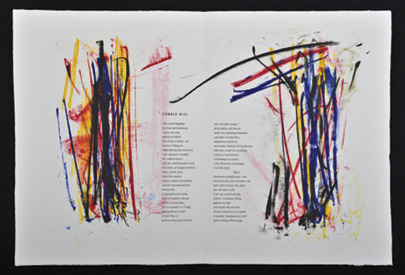 We know that Mitchell was aware of her terminal illness when she made this suite, yet we can feel her enthusiasm for the project, and her joie de vivre. It is Kernan's words that convey her sorrow, and the imminent end of the light she so prized. In Cobble Hill, Kernan speaks of the transitory qualities of life, the subtle exchange of feelings between people, the slight changes rendered by the wind, the awareness of the passage of time. Mitchell responds to Kernan with layered, assertive slashes in blacks, blues and reds. The vertically of her gestures suggests references to both her own body and the tall trees that occupied her thoughts and dreams.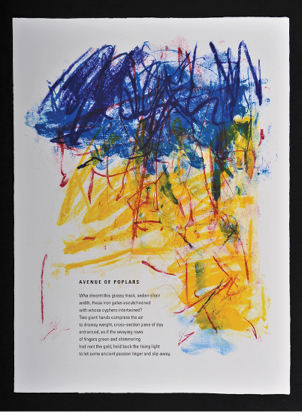 In Avenue of Poplars, Kernan seems to address both the omnipotence of the artist and her impending death. "As if swaying rows of fingers green and shimmering had rent the gold, held back the rising light to let some ancient passion linger and slip away." But Mitchell seems to defy fate, endowing the page with exhilarating pools of yellow and blue.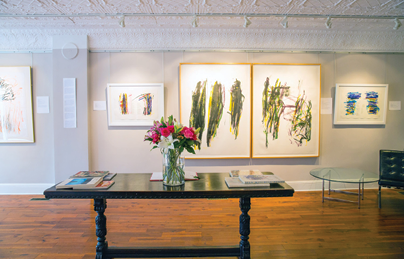 Throughout the suite, the friendship between Mitchell and Kernan is both evident and subtle. The two artists are conjoined in enthusiasm and tenderness, leaving us with a delicate, but fervent record of their relationship made manifest on those particular days when they joined forces in Mount Kisco.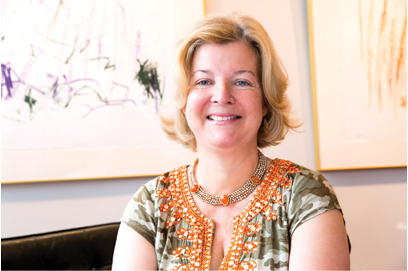 The decision to exhibit Poems and other Tyler Graphic prints is a testament to Andrea Keogh's impressive career. A Connecticut native, she is a graduate of Trinity College. Her first job was in the Art Nouveau and Art Deco Department of Sotheby's, in New York. After a stint with Citibank Art Advisory Services, Keogh moved to London to work with Christopher Beetles, a specialist in British watercolors. She then returned to New York to assist gallerists on the upper east side before establishing her own gallery with business partner, Franklin Rehlman. Keogh and her husband bought their Litchfield home seven years ago, and moved there with their two daughters permanently in 2014.
Joan Mitchell: Visual Poetry is a great opportunity to expand your knowledge of Mitchell's oeuvre or to be introduced to a modernist master. The exhibition will be on view until November 27. Additional information about Joan Mitchell's artistic legacy can be found at http://joanmitchellfoundation.org/