Acclaimed poet and West Cornwall resident Sally Van Doren has transferred thought to image, transitioning from page to canvas in an exhibition at the Cornwall Public Library. 
I have scrawled audible lifelines along the edges
of the lint trap, dropping the ball of towel fuzz
in the thin blue bin lined with a thirteen-gallon bag.
–Sally Van Doren
Sally Van Doren's poetry is taut and honed, punctuated with tantalizing references to the senses and the sensual. Spare and intimate, devotional and acerbic, her tone lends irony and eroticism to the mundane events of daily life. As one reads her recent volume, Promise, it is evident that her acute observations are gleaned from her regular and disciplined writing practice, the crafted work that supports all art.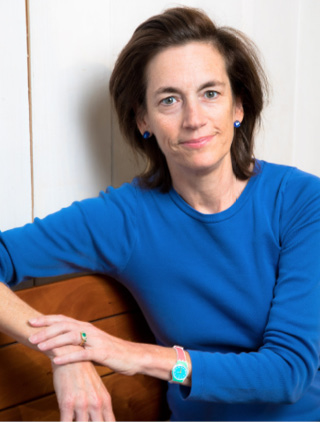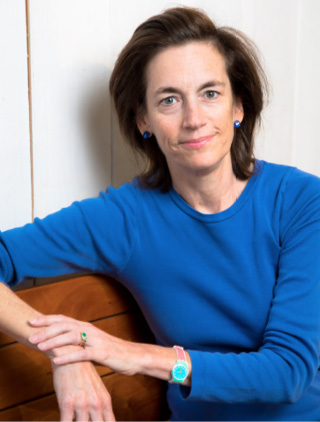 Van Doren's measured voice gestated in daily writings that she has accumulated during the past twenty years. The notes and fragments began as conventional diary entries, but around 2007 her handwriting began to evolve into a more meditative exercise. Since that time, she has filled 13,000 notebook pages with increasingly illegible cursive, lines that still allude to writing, but also function as drawings. Like the automatic drawings of early modernism, Van Doren's polysemic scribbles arise from a life lived in acute awareness. As her poem Or states, her process is a continuum.
Every morning I let it all go.
Then it starts coming back,
sometimes blurred, sometimes
stuttering, sometimes suspended
on a linear dartboard that
I try to impale myself upon.
Over time, Van Doren's notations have become more about touch than words. An obsessive quality prevails, as though she must follow where her hand leads her. The legible is lost in translation, and shapes assume their own meanings, becoming an abstract text that is both foreign and familiar. Her "linear dartboard" has moved to the canvas, a place where her manic markings are liberated from the cloistered interiority of the page. In that transition from page to canvas, she has "transferred thought to image."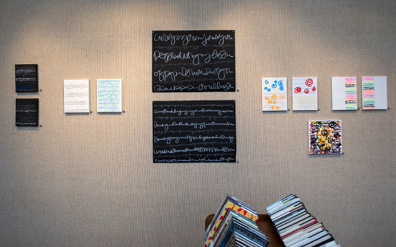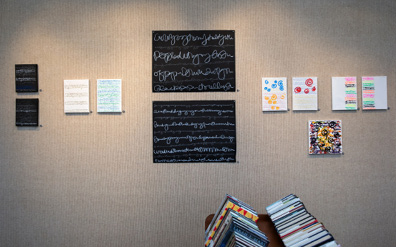 The current exhibition of Van Doren's art at the Cornwall Public Library entails three groups of fundamentally joyful works. Her "Likenesses" are direct responses to friends and family who sit for her. For each personage she chooses particular media, colors and titles to reflect each personality.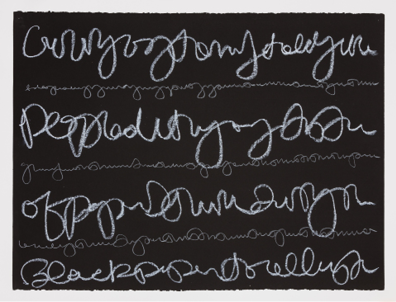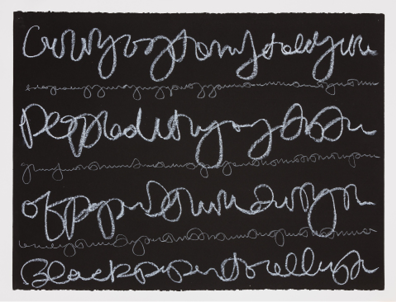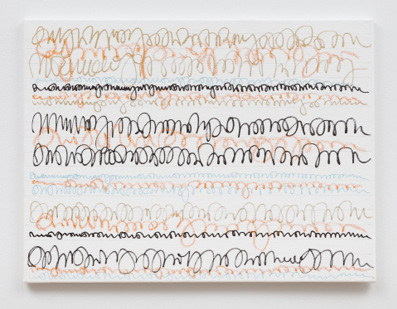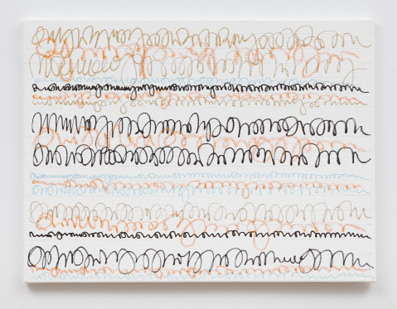 "Transcriptions" are inspired by poetry by the ancient Roman Catullus, Emily Dickinson, or aspects of her own poems. Clearly, Van Doren is as much a reader as a writer. Her literary allusions are a natural dimension of her accessible profundity.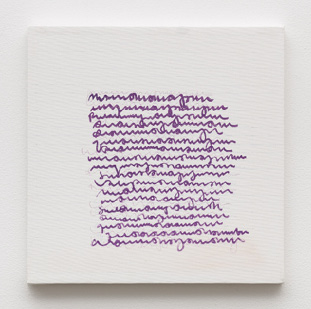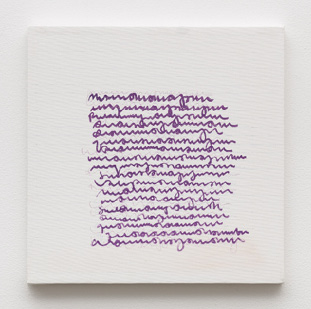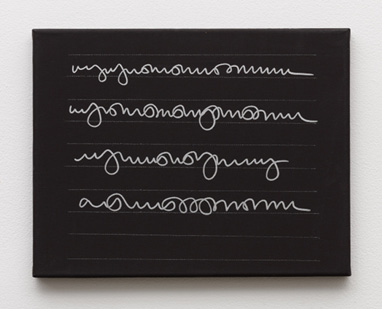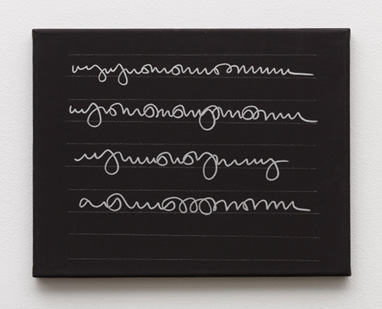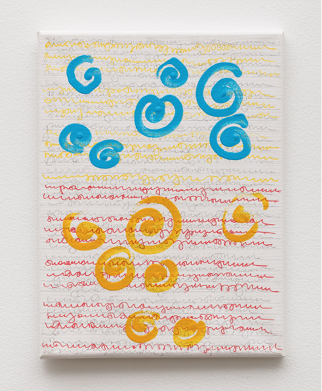 "Verbal Icons" are often collages, made with bits of glued fabric and stitchery on a sheet of paper. Their titles refer to such rhetorical devices as polypton, antanaclasis, epanalepsis – words that in their lusciousness and mystery suggest the fecund mind of the artist. Antanaclasis, is a phrase or word used repeatedly, though the meaning of the word changes in each case. It is the repetition of a similar word in a sentence with different meanings, or a word is repeated in two or more different senses.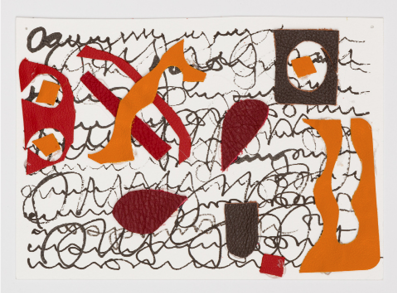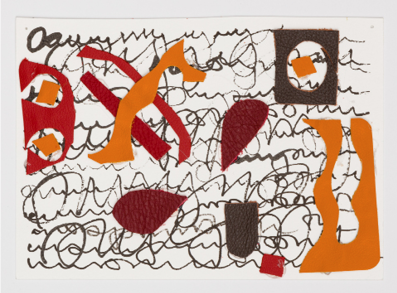 Epanalesis, which the dictionary defines as "a repetition of a word or a phrase with intervening words setting off the repetition, sometimes occurring with a phrase used both at the beginning and end of a sentence," is the title of Van Doren's largest work, a horizontally oriented screed of white on a deep turquoise field. As the title suggests, the script is repetitive, and continuous.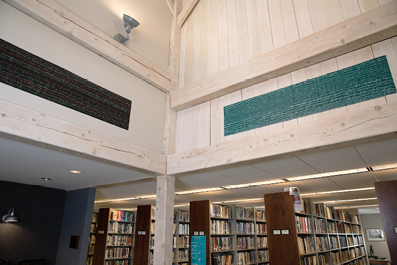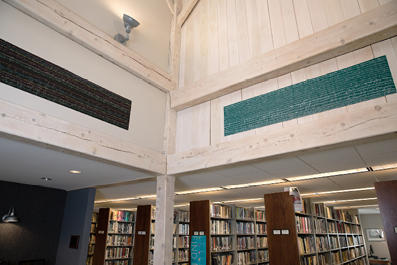 This is a momentous time in Van Doren's creative life. Her transition from words to images may be the beginning of a new phase in her already long career, but it is not unexpected. Her husband, John Van Doren owns the New York City art gallery Van Doren Waxter, which specializes in conceptual and idea based art, so the poet has spent decades deciphering esoteric visual language. Perhaps her drawings will lead her into a purely visual world, but it is more likely that she will continue to record her observations of life's vicissitudes in both word and image with her uncommon sensitivity.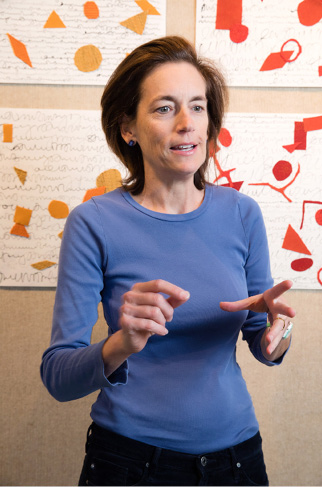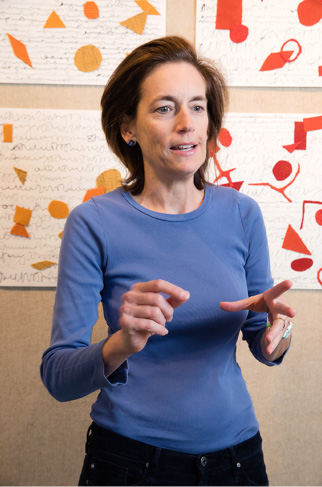 Van Doren is an acclaimed poet who has published three poetry collections. Along with Promise, published this year, is Possessive 2012, and Sex at Noon Taxes of 2008. Her poems have appeared in the New Republic, the Cincinnati Review, the Southern Review, Boulevard, and American Poet. She received the Walt Whitman Award from the Academy of American Poets. Born and raised in Missouri, Van Doren lives in St. Louis and in West Cornwall, at her husband's family home.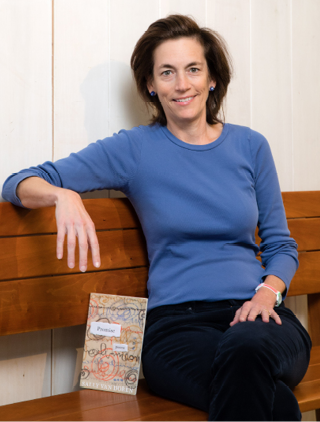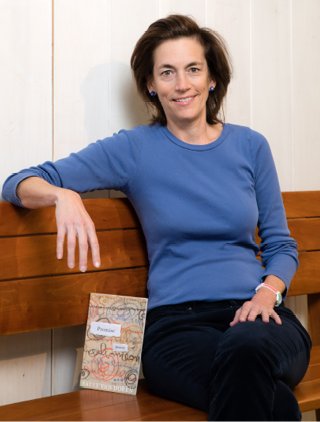 The Sally Van Doren exhibition will remain on view at the Cornwall Public Library through December 9, 2017.
Cornwall Public Library
30 Pine Street
Cornwall
cornwalllibrary.org